Online Discography

Zonophon-Ansichtskarten

&




Musika phono cards












Zonophon G.m.b.H. Ansichts-Postkarte , Berlin, Ritter-Strasse 63
Please note: This is a discographical catalog - items are NOT available for sale from us
Acknowledgements:
Frank Andrews, Lyle Boehland, Alan Dein, Matthew Dodd, Benno Häupl, Alan Kelly, Allen Koenigsberg, Raoul Konetzni, Kurt Nauck, Stephan Puille, Allan Sutton
Introductory notes:
The basic idea of a gramophone postcard is to glue a single sided miniature disc record onto a postcard and punch a center hole through both card and disc. For further details see the exploratory history of the phono postcard
Zonophon talking cards

The history of the early Zonophon talking cards is still shrouded in mystery. Emil Berliner's US Gramophone Company was in operation in Washington, DC, from 1892. Branch offices were opened in London in 1897 and Berlin in 1899. A year later the company became the Gramophone & Typewriter Co (G&T). Frank Seaman of the New York Gramophone Co acted as Berliner's sales agent in the US. From 1899 Seaman marketed his own Zon-O-Phone discs, and, by legal action forced Berliner out of his US business by 1900 (Berliner sold his interests to the Victor Talking Machine Co). Things developed differently in Europe. Effective from 06 June 1903 G&T purchased the International Zonophone Company and its American associates. A letter to this effect, dated September 1903, was published in "Phonographische Zeitschrift", and a revised and enlarged German catalog was announced for 1st October. On 17 November 1903 a full page advertisement appeared in "Phonographische Zeitschrift". A Zonophon G.m.b.H. Berlin, Ritter-Strasse 63, presented themselves as general sales agents for "Die sprechende, singende und musizierende Ansichts-Postkarte. Naturgetreue Wiedergabe von Gesängen, Gesprächen u. Musikstücken. (Grammophonisches System). Patente in allen Kulturstaaten angemeldet".
The surviving files of the Gramophone & Typewriter Company contain no reference whatsoever to such postcards. At present it can only be guessed that this was the work of an outside specialist firm who had an agreement with Zonophone before the takeover and whose contract went to G&T along with everything else. Who then could be behind this venture? Ritter-Strasse, like an oriental bazaar, was the address of many companies active in the talking machine business. Ritter-Strasse 93 was the address of the Adler Phonograph Company. This could explain the cryptic reference to a "gramophonic system", as Adler manufactured vertical-cut cylinders while Gramophone and Zonophone manufactured lateral-cut disc records.
In 1910 in Germany, Zonophon announced what they called "Musik-Postkarten" (songs, marches, or congratulations recorded to order) and claimed the total playing time to be 1/3 of a regular disc. Whether this is the same enterprise that was already active in 1903 we do not know, but at least on card number 51 a German patent number is given which identifies the card clearly as belonging to Zonophon. Most Zonophon cards from this series have a brownish disc pasted onto a monochrome (white) card, with embossed pictorial and floral designs, while some had matching photographic portraits of the artists. The same recordings that had been used on the early embossed cards have later been marketed with a different design, now printed in colour, first as chromolithographed cards and later under the trademark "Musika-Tonpostkarten". The backs are divided. Postally run cards appear to have been postmarked in 1914. "Musika" phono cards had clearly been intended for export to the United States. They may or may not have been associated with "Musica", a name that was protected by French singer and entrepreneur George Dutreih in Paris in 1904, and renewed by the German Polyphon Werke Aktiengesellschaft in 1921.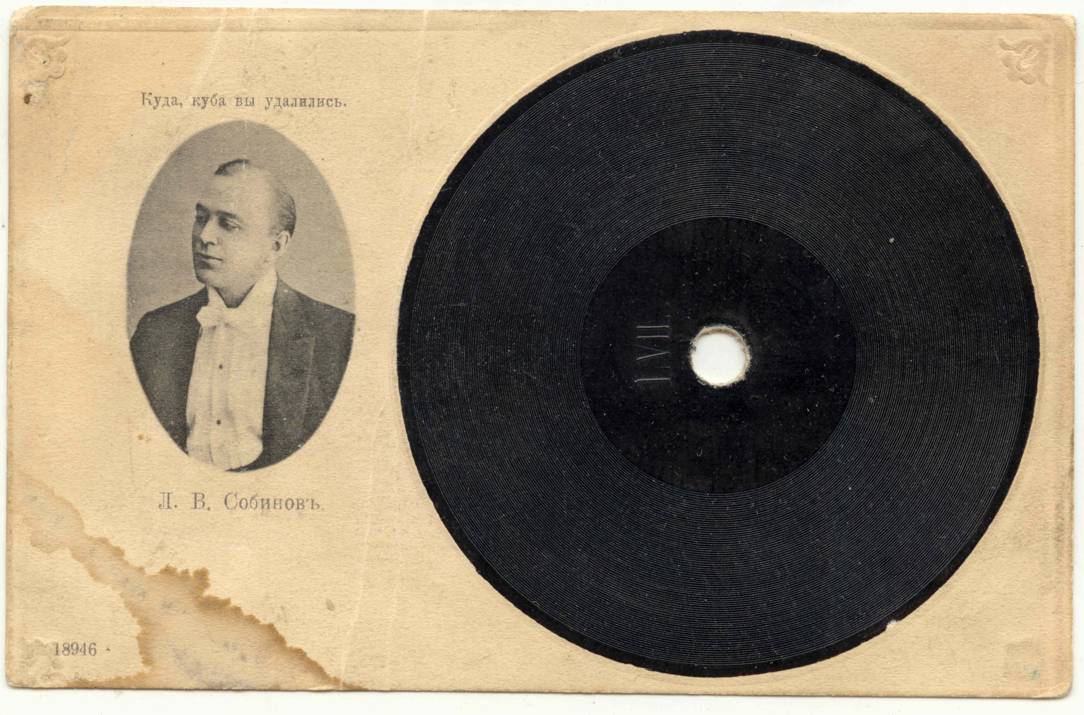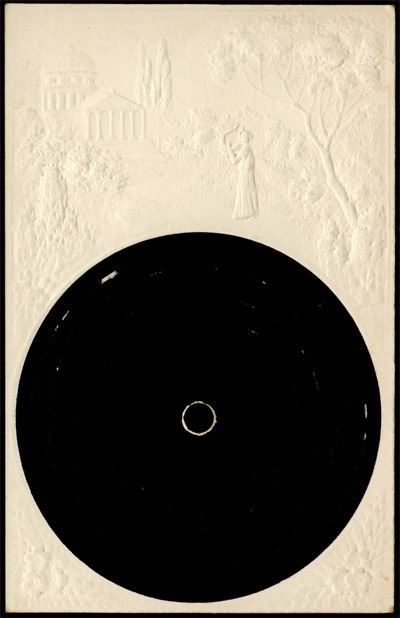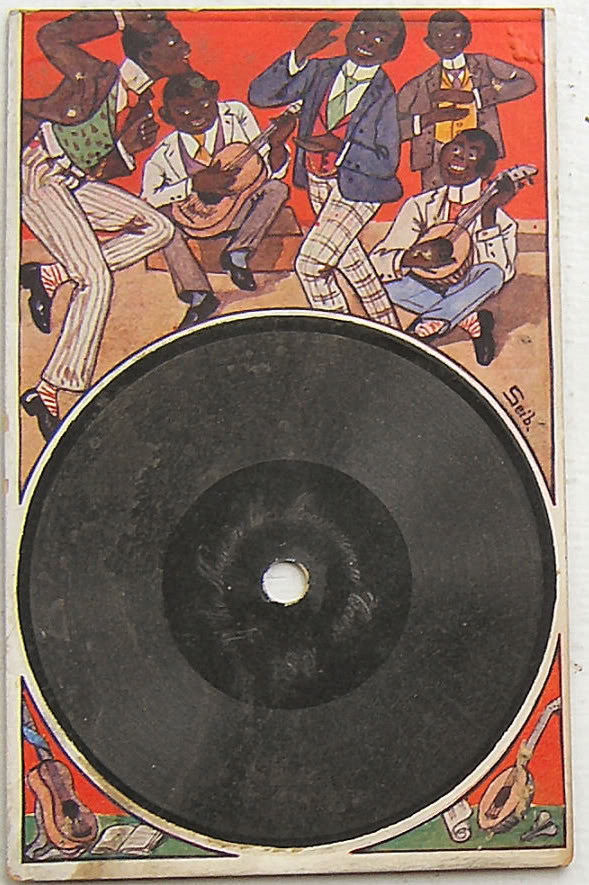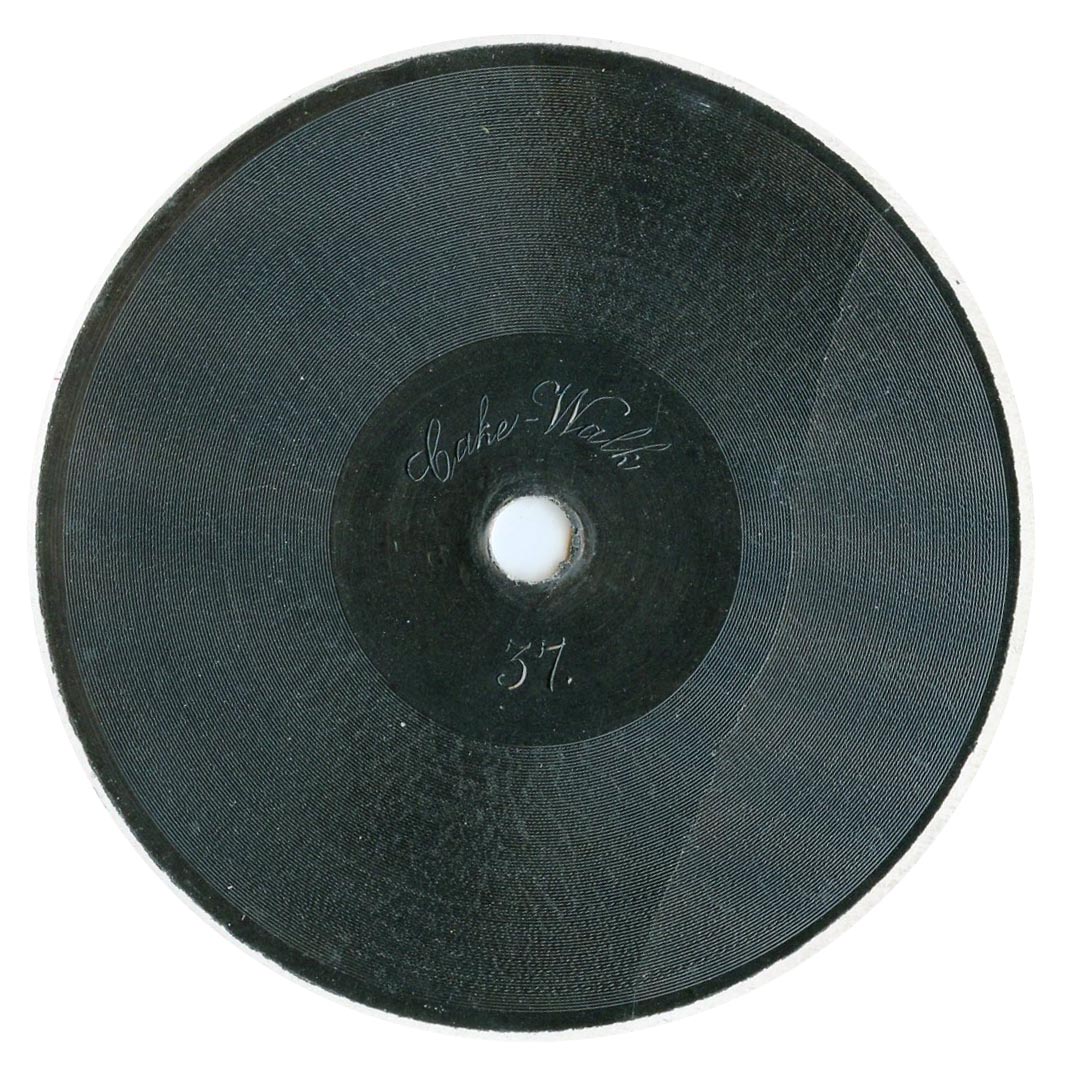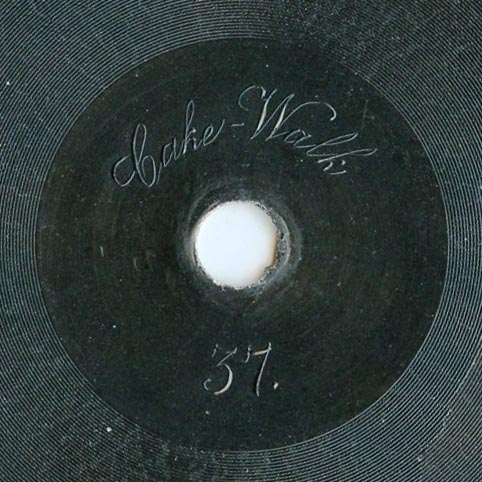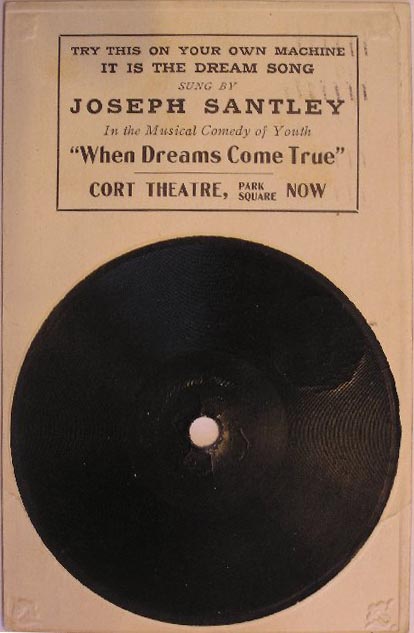 Label listing:
Zonophon-Postkarten (1903 catalog)
Zonophon (Embossed) and Musika combined listing

Clicking the links below will present a selection of images
| | | | | | | | | | | | | | | | | | | | |
| --- | --- | --- | --- | --- | --- | --- | --- | --- | --- | --- | --- | --- | --- | --- | --- | --- | --- | --- | --- |
| | | | | | | | | | | | | | | | | | | | |
| ..1 | ..2 | | ..4 | | ..6 | ..7 | ..8 | ..9 | .10 | .11 | .12 | .13 | .14 | | | | | | |
| | .22 | | | | | | | .29 | .30 | | | | .34 | .35 | | | | .39 | .40 |
| .41 | .42 | .43 | .44 | | .46 | .47 | .48 | .49 | .50 | | .52 | | .54 | | | | .58 | .59 | .60 |
| 61 | .62 | .63 | .64 | .65 | .66 | .67 | | .69 | .70 | .71 | .72 | .73 | .74 | .75 | .76 | .77 | .78 | .79 | .80 |
| .81 | .82 | .83 | .84 | .85 | .86 | .87 | .88 | .89 | .90 | .91 | .92 | .93 | .94 | .95 | .96 | .97 | .98 | .99 | 100 |
| 101 | 102 | 103 | 104 | 105 | 106 | 107 | 108 | 109 | 110 | 111 | 112 | 113 | 114 | 115 | 116 | 117 | 118 | 119 | 120 |
| 121 | 122 | 123 | 124 | 125 | 126 | 127 | 128 | 129 | 130 | 131 | 132 | 133 | 134 | 135 | 136 | 137 | 138 | 139 | 140 |
| 141 | 142 | 143 | 144 | 145 | 146 | 147 | 148 | 149 | 150 | 151 | 152 | 153 | 154 | 155 | | | 158 | 159 | 160 |
| 161 | 162 | 163 | 164 | 165 | 166 | 167 | 168 | 169 | 170 | | 172 | 173 | 174 | 175 | 176 | 177 | 178 | | |
| | 182 | 183 | | | 186 | 187 | 188 | 189 | 190 | 191 | 192 | 193 | 194 | 195 | 196 | 197 | 198 | 199 | 200 |
| 201 | 202 | 203 | 204 | | 206 | 207 | 208 | 209 | 210 | 211 | 212 | 213 | 214 | 215 | 216 | 217 | 218 | 219 | 230 |
| | | | | | | | | | | | | | | | | | | | |
| 301 | 302 | 303 | 304 | 305 | 306 | 307 | 308 | 309 | 310 | 311 | 312 | 313 | 314 | 315 | 316 | 317 | 318 | 319 | 320 |
| | | | | | | | | | | | | | | | | | | | |
| 401 | 402 | 403 | 404 | 405 | 406 | 407 | 408 | 409 | 410 | 411 | 412 | 413 | 414 | 415 | 416 | 417 | 418 | 419 | 420 |
| | | | | | | | | | | | | | | | | | | | |
| | 602 | 603 | 604 | 605 | 606 | 607 | 608 | 609 | 610 | 611 | 612 | 613 | | 615 | 616 | 617 | 618 | 619 | 620 |
| | | | | | | | | | | | | | | | | | | | |
| | | | | | | | | | | | | | | | | | | | |
| | | | | | | | | | | | | | | | | | | | |
| | | | | | | | | | | | | | | | | | | | |
| | | | | | | | | | | | | | | | | | | | |
| | | | | | | | | | | | | | | | | | | | |
no mx-When Dreams Come True no mx-Gardeleutnant
It is not presently possible to determine the total number of cards produced, and information on matrix numbers etc can only be derived from physical autopsy of the artifacts. If you have additions or corrections: Please contact us by e-mail: Rainer E. Lotz

Updated 2009-08-01

---
---