Online

Discography


Greetaphone Cards



Greetaphone Cards
Please note: This is a discographical catalog - items are NOT available for sale from us
Acknowledgements
The American collector and phonocard specialist Lyle Boehland provided the images and company history below
. Glenn Grabinsky.
The imprint on the cards identifies them as a product of "Hall Brothers, New York, Kansas City Hallmark Cards"
From Hallmark web site: http://corporate.hallmark.com/Product/Greeting-Cards-Overview
Hallmark's long history of selling greeting cards began in the early 1900s in Norfolk, Neb., where brothers Joyce, Rollie and William Hall began selling postcards wholesale as the Norfolk Post Card Company. In 1910 at the age of 18, Joyce moved to Kansas City, Mo., where he continued wholesaling postcards from his YMCA room. "Hall Brothers" was formed in 1911 when brother Rollie moved to Kansas City. In 1915, the Halls started producing their own greeting cards as the popularity of postcards waned and they recognized the public's desire for greater privacy with cards mailed in envelopes. The word "Hallmark" first appeared on the back of a card in 1925. By 1928, the brand name appeared on all the company's cards.
Joyce C. Hall History: http://www.emotionscards.com/museum/joycehall.htm
From history of Joyce C. Hall :
"He decided to call the company Hallmark, a play on his name and the word for quality which dated back to the 1300's, where gold and silver were;"marked" for quality at Goldsmith's Hall in London. Coins and other items of high quality received a "Hall mark".
Discography:
| | | | | | |
| --- | --- | --- | --- | --- | --- |
| Nr | Interpret | Titel | Komponist/Texter | Design | Bemerkungen |
| 1501 | | For Your Birthday | | | |
| 1502 | | | | | Blue. Gold edge |
| | | | Edgar A. Guest | | Black. Silver edge |
| | | | | | Blue. Silver edge |
| 1505 | | | | | |
| 1506 | | | | | |
| 1507 | | Memories Of You | | | Black. Silver edge |
| 1508 | | | | | Blue, Silver edge |
| 1509 | | | | | |
| 1510 | | You're Shut In | | | |
| | | My Wish For Your Birthday | | | Black |
| | | | | | Blue. Silver edge |
| | | To You Old Folks At Home | | | Black. Gold edge |
| 1514 | | | | | |
| 1515 | | | | | |
| 1516 | | | | | |
| 1517 | | | | | |
| 1518 | | | | | |
| 1519 | | | | | |
| | | Days Of Long Ago | | | Blue. Silver Edge. Colored Design |
| | | Merry Christmas To You | | | Blue. Silver Edge. Colored Design |
| 1556 | | | | | |
| 1557 | | | | | |
| 1558 | | | | | |
| 1559 | | From Our House To Your House | | | Blue. Gold Edge. Gray card. Blank back |
| | | | | | |
Greetaphone discs were attached to the cards with one staple. They were provided with a slip of paper to the words of the poem on the record. Some are semi-opaque when held against the light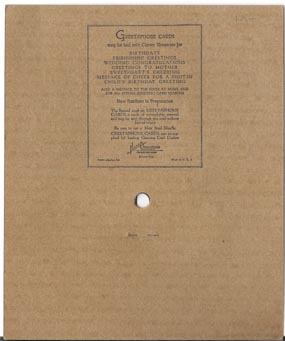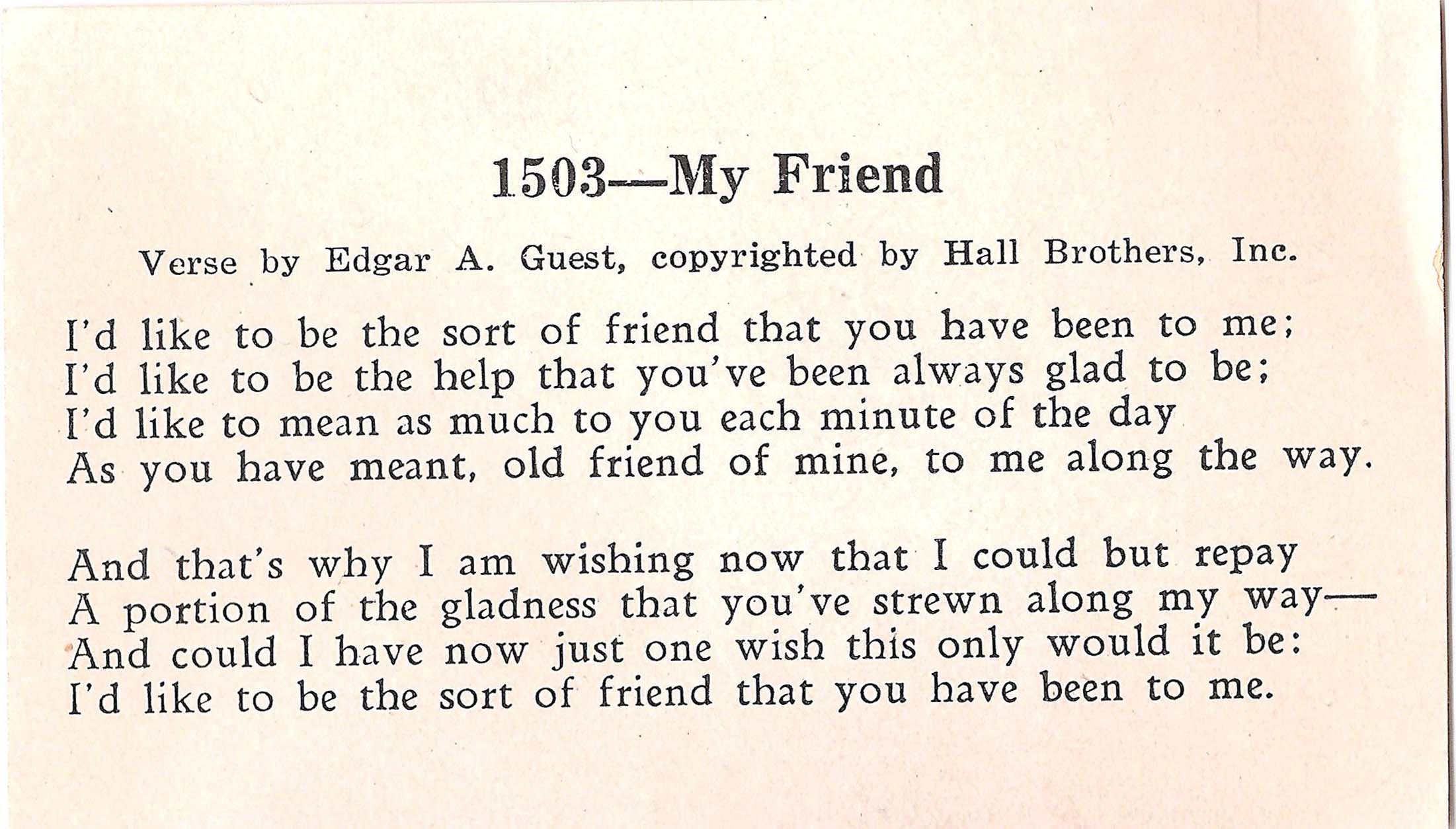 No.1503 "My Friend" (reverse) No.1503 paper slip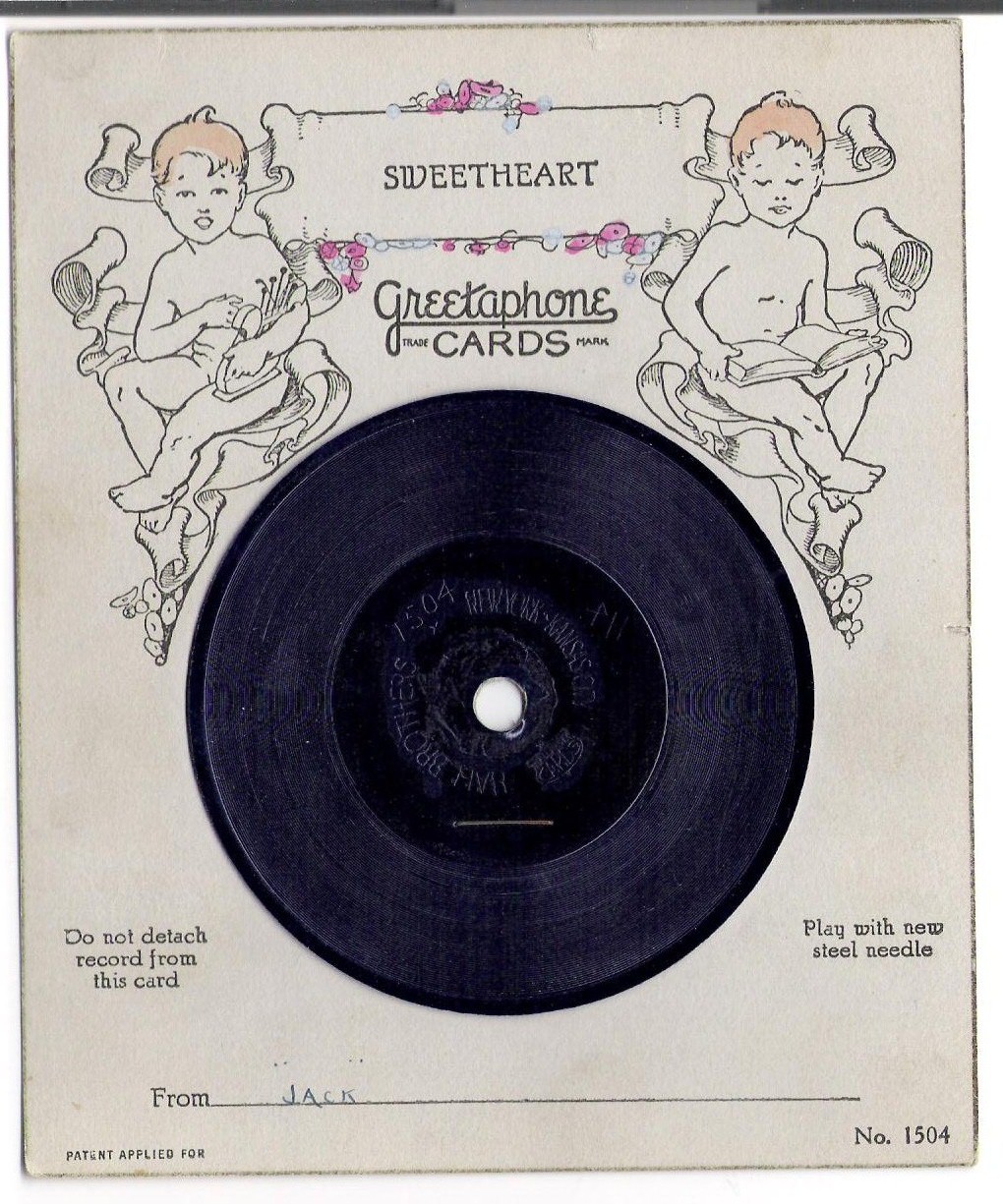 No 1504 Sweetheart No.1504 (reverse)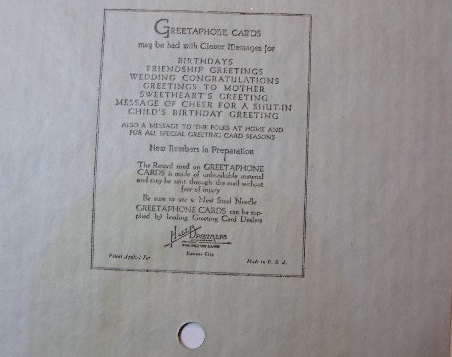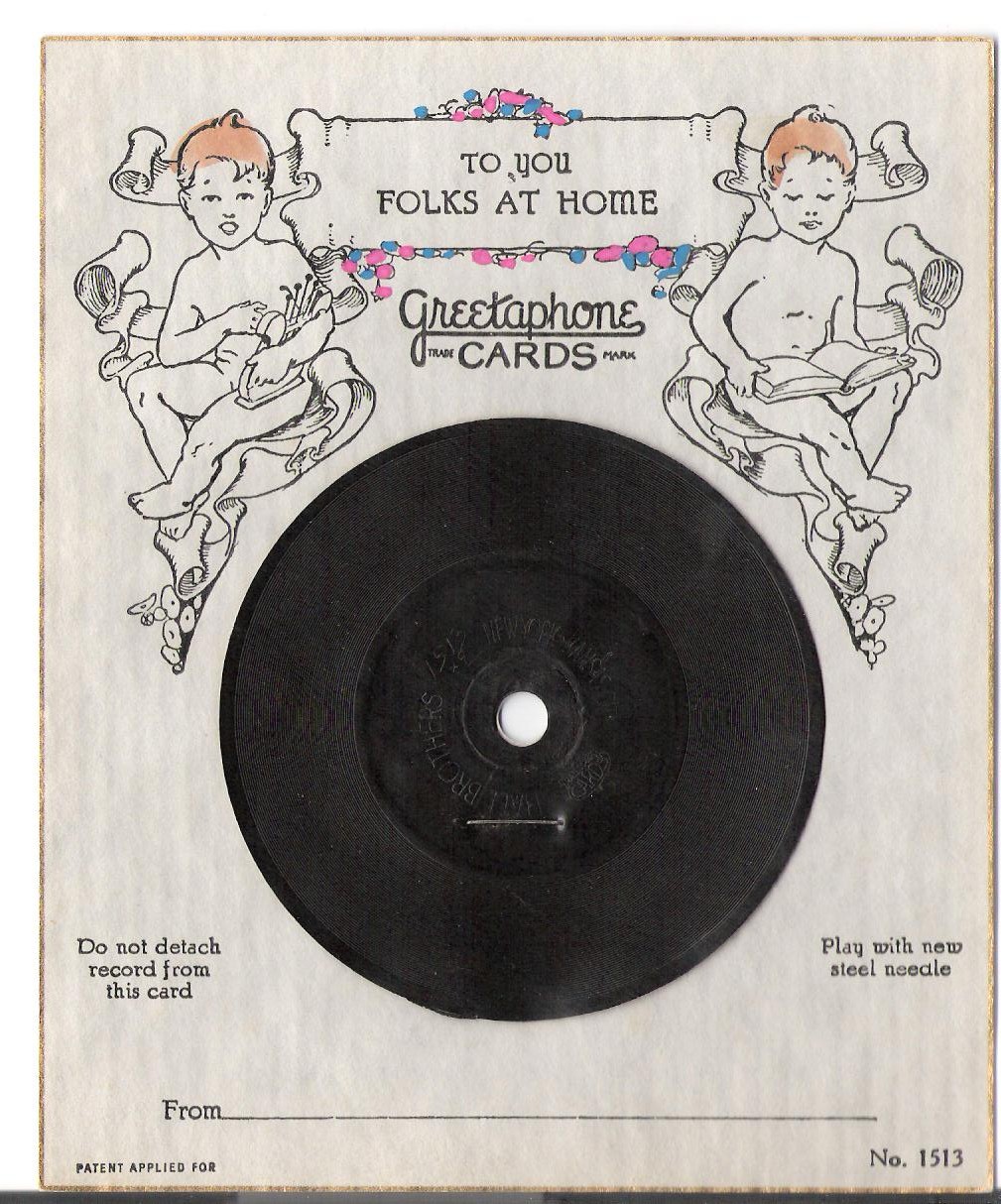 No,.1504 (reverse, detail) No.1513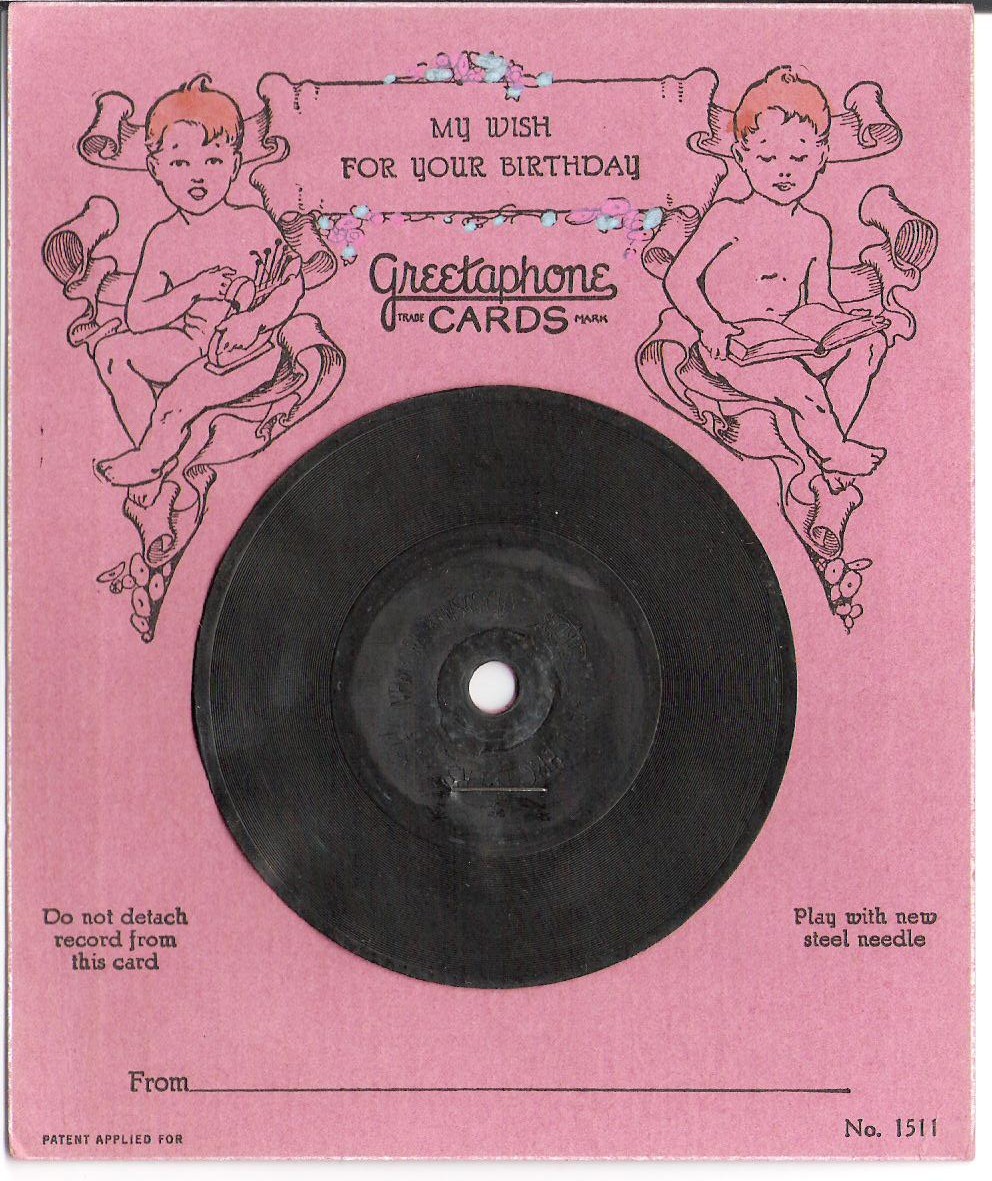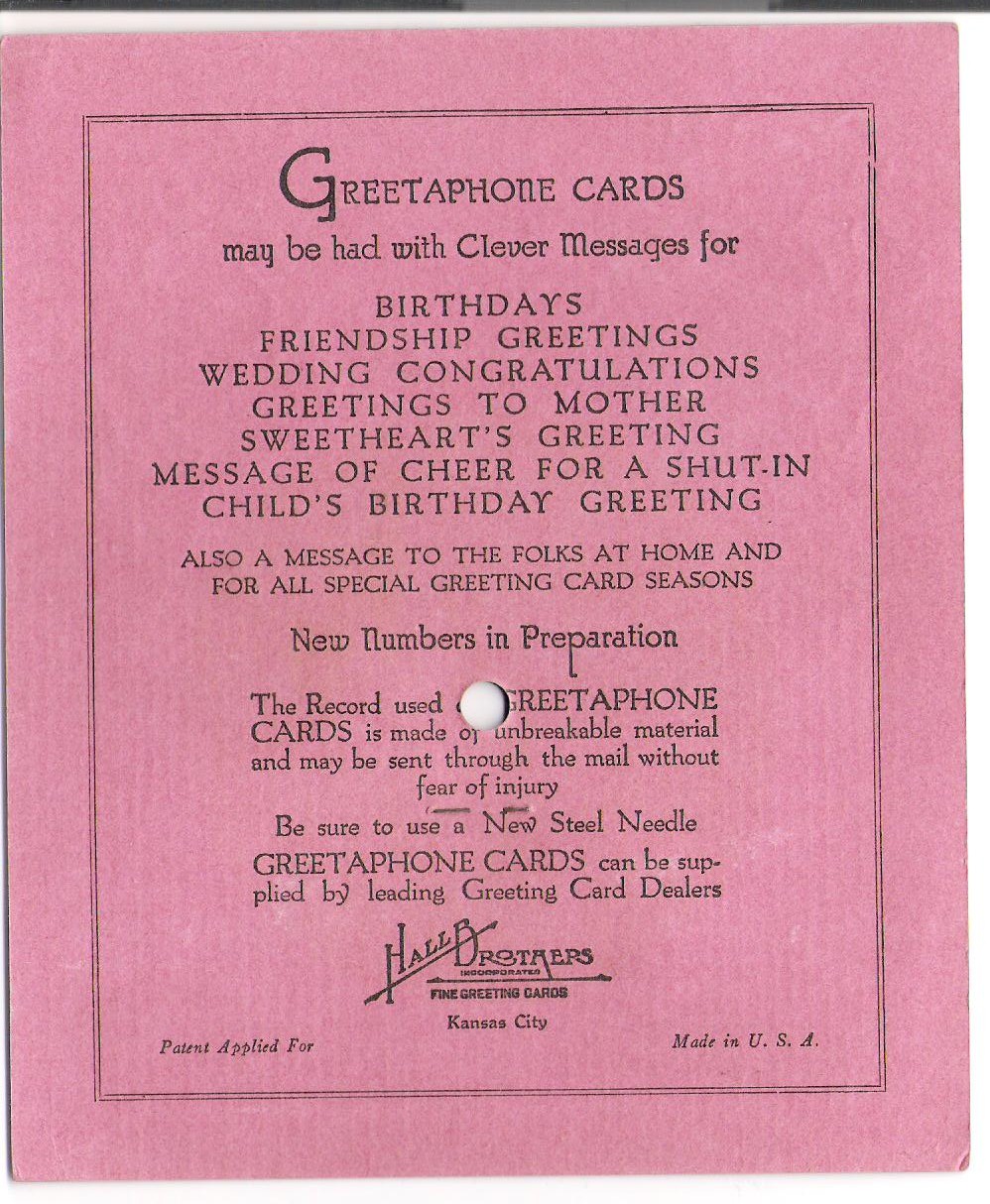 No.1511 No.1511 (reverse)
If you have additions or corrections: Please contact us by e-mail: rainer-lotz@gmx.de

Last updated: 2014-12-28

---
---